College's 2023 Undergraduate Commencement Ceremony Speakers Announced
Computer science and mathematics alum Zeki Mokhtarzada, chief technology officer for Tenovos, will be the keynote speaker at the University of Maryland's College of Computer, Mathematical, and Natural Sciences 2023 Undergraduate Commencement Ceremony on May 23, 2023. Junyi "Julie" Liu (B.S. '22, biological sciences) was selected as the student speaker for the ceremony. The ceremony will honor the college's August 2022, December 2022 and May 2023 graduates receiving bachelor's degrees.
Zeki Mokhtarzada, Keynote Speaker
Zeki Mokhtarzada (B.S. '01, computer science and mathematics) was born in Turkey and spent the first years of his life in Afghanistan. When he was five, his family fled from the turmoil of the Soviet invasion and came to the U.S. as refugees, settling in Montgomery County, Maryland.
Mokhtarzada began his entrepreneurial career as an undergraduate at the University of Maryland. He and his brothers launched the startup Freewebs (later renamed Webs, Inc.) and in 2011, they sold it to VistaPrint for $117.5 million. Mokhtarzada served as the company's engineer, architect and chief technology officer, overseeing all of the technology for the site, which eventually grew to serve tens of millions of visitors each month.
In 2021, Rocket Companies snagged the subscription management app Truebill, which was co-founded by Mokhtarzada and his brothers, for $1.275 billion (now called Rocket Money).
Now, Mokhtarzada serves as chief technology officer for Tenovos, a New York-based startup leading in next-generation digital asset management. He has published papers in numerous scientific journals in the field of computational neuroanatomy relating to the application of genetic algorithms and other artificial intelligence techniques to the field of neuroscience.
Mokhtarzada is also a familiar face on the UMD campus as a mentor and advisor for student entrepreneurs, through the Dingman Center for Entrepreneurship and his family's own startup incubator called the Mokhtarzada Hatchery. Mokhtarzada works with the UMD startup community to give back and show his gratitude for all the people who helped him along the way.
He also devotes time to working with local and national nonprofits. Mokhtarzada serves as president of the Montgomery Blair High School Magnet Foundation and as treasurer of the One America Movement.
Junyi "Julie" Liu, Student Speaker
Junyi "Julie" Liu graduated in December 2022 with a bachelor's degree in biological sciences with a specialization in neurobiology and physiology. Liu, who completed a citation from the College Park Scholars Life Sciences program, is an aspiring physician hoping to integrate her research and clinical work to find novel treatments.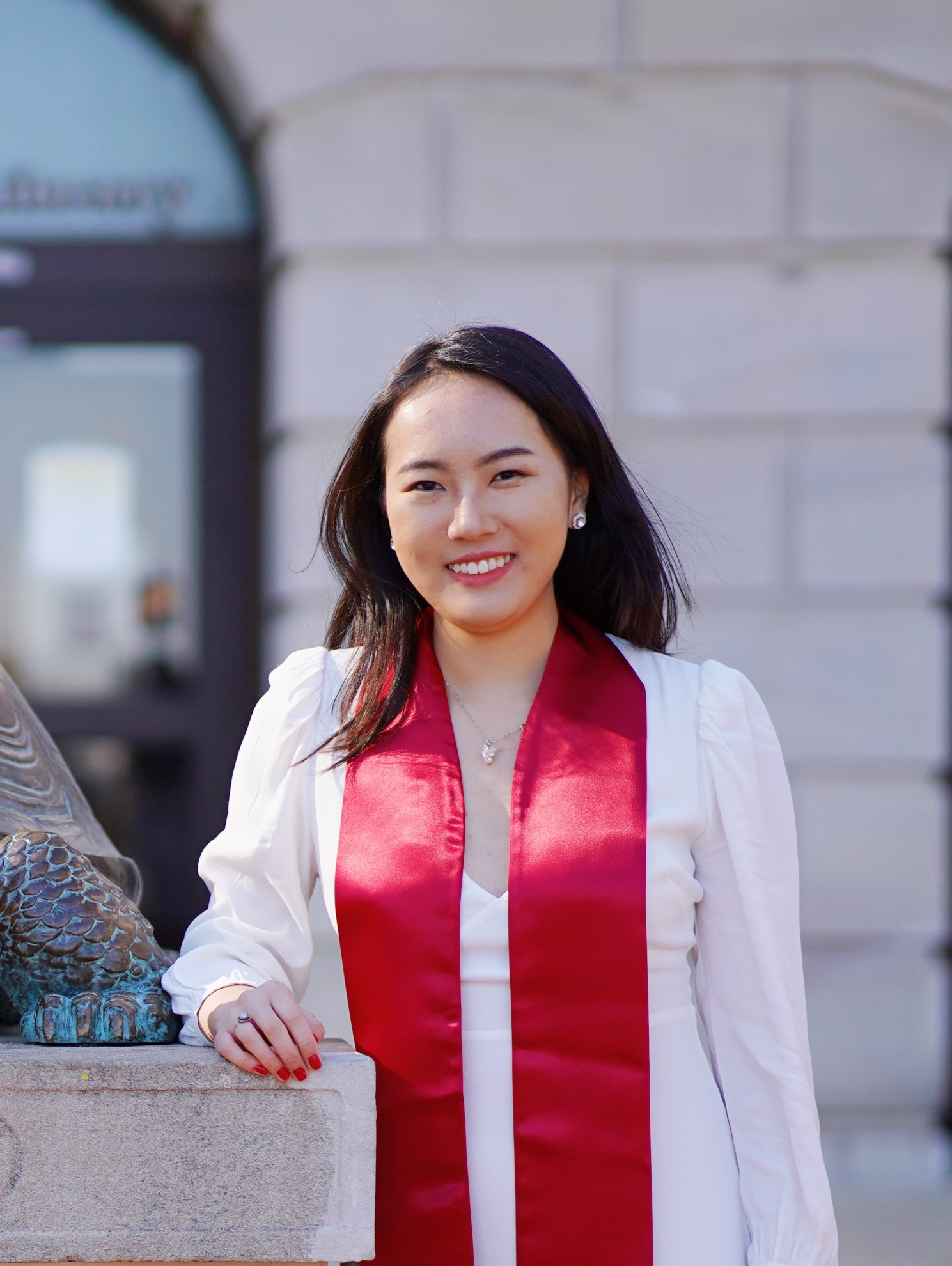 Born and raised in Wuhan, China, Liu was inspired to become a physician by her father, a chemist whose research piqued her scientific curiosity. She moved to the United States at 14 years old, attending the Bryn Mawr School in Baltimore before arriving at the University of Maryland in fall 2019.
As a published student researcher, Liu actively pursued research since high school, including work on cancer cell inhibition and cytokine scavenging nanoparticles for cancer therapy at the Johns Hopkins University School of Medicine. She also contributed to clinical research as the chief clinical teaching assistant of the Emergency Medicine Research Associates Program at the University of Maryland Capital Region Health Center, where she studied the minimization of emergency department visits of violence intervention program patients compared with trauma patients overall. Internationally, she collaborates with the Department of Oncology and Hematology at Zhongnan Hospital in Wuhan, China, with a focus on chronic HIV infection and leukemogenesis.
On campus, Liu worked as a teaching assistant for BSCI 222 and CHEM 272, served as a CMNS recruitment ambassador, and was a Terps for Change coordinator. She also shadows at the Department of Dermatology and the Pediatric Emergency Department at the Johns Hopkins Hospital, an experience she began in her senior year of high school.
Since graduation, Liu has worked as an orthopedic surgery medical scribe. In the fall, Liu will attend medical school at Albany Medical College and continue pursuing her passion in medicine.