UMD to Host Nov. 12 Viewing Party for First-Ever Landing of a Probe on a Comet
WHAT: After sailing through space for more than 10 years, the European Space Agency's Rosetta spacecraft will land a robotic probe on a comet. University of Maryland astronomers and physicists will describe the Rosetta mission and answer questions as they watch live coverage of this milestone: the first-ever soft landing of a spacecraft on a comet. They will also describe instruments onboard Rosetta, including those with UMD participation: OSIRIS, a visible and infrared imager and spectrometer, and ALICE, which is sending back the first observations ever made of a comet's surface in far-ultraviolet radiation.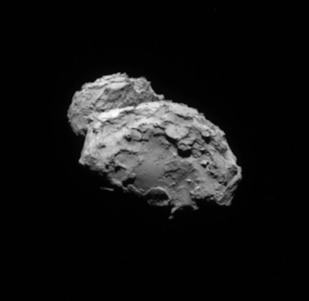 WHEN: Wednesday, Nov. 12, 2014 from 10 a.m. – 1 p.m. ET. The landing is scheduled for approximately 10:30 a.m., with a signal confirming landing expected at approximately 11 a.m., and release of the first pictures from the surface around 12 noon.
WHERE: University of Maryland, Physical Sciences Complex foyer. Directions and parking information available here: http://cmns.umd.edu/directions-physical-sciences-complex.
WHO: UMD space mission and comet experts Astronomy Professor Jessica Sunshine, Distinguished University Professor of Physics Roald Sagdeev and Astronomy Senior Research Scientist Tony Farnham. 
ABOUT ROSETTA: Rosetta launched in March 2004 and spent 957 days in "hibernation" as it zoomed through the darkness of space. The mission's Philae (fee-LAY) lander is scheduled to touch down on comet 67P/Churyumov-Gerasimenko on Nov. 12. The landing site, Agilkia, refers to an island on the Nile where ancient buildings were relocated after the island Philae flooded.
After touchdown, the Philae lander will obtain the first images ever taken from a comet's surface. It will also drill into the surface to study the composition, and witness close up how a comet changes as its exposure to the Sun varies. Philae can remain active on the surface for about two-and-a-half days (if batteries recharge, the lander may continue to experiment on and observe the surface for much longer). Its mother ship, the Rosetta spacecraft, will remain in orbit around the comet through 2015. The orbiter will continue detailed studies of the comet as it approaches the Sun and then moves away.
Alice, one of the instruments onboard the Rosetta orbiter, has been sending data back to University of Maryland astronomers and will continue to do so through 2015. An ultraviolet spectrometer, Alice analyzes gases in the comet's coma and tail; measures how fast the comet produces water, carbon monoxide and carbon dioxide (clues to the surface composition of the nucleus); and measures argon levels. These measurements help determine the temperature of the solar system when the nucleus formed more than 4.6 billion years ago.
In addition to their well-deserved reputation as beautiful cosmic objects, comets hold vital clues about our solar system's history. They are considered primitive building blocks of the solar system that are literally frozen in time, and they may have played a part in "seeding" Earth with water and, possibly, the basic ingredients for life.
For more information on UMD's participation in the Rosetta mission, visit https://cmns.umd.edu/news-events/features/2589.
Media who wish to attend should contact Abby Robinson, 301-405-5845, abbyr@umd.edu.
University of Maryland
College of Computer, Mathematical, and Natural Sciences
2300 Symons Hall, College Park, Md. 20742
www.cmns.umd.edu
@UMDscience
About the College of Computer, Mathematical, and Natural Sciences
The College of Computer, Mathematical, and Natural Sciences at the University of Maryland educates more than 7,000 future scientific leaders in its undergraduate and graduate programs each year. The college's 10 departments and more than a dozen interdisciplinary research centers foster scientific discovery with annual sponsored research funding exceeding $150 million.