Math Alum Returns to UMD, Earns Her Master's in Data Science and Analytics
Not long after Casey Tarman (B.S. '19, mathematics; M.P.S. '21, data science and analytics) graduated with her bachelor's degree from the University of Maryland and landed a job as a data scientist with the Department of Defense, she decided the time was right to get her master's degree.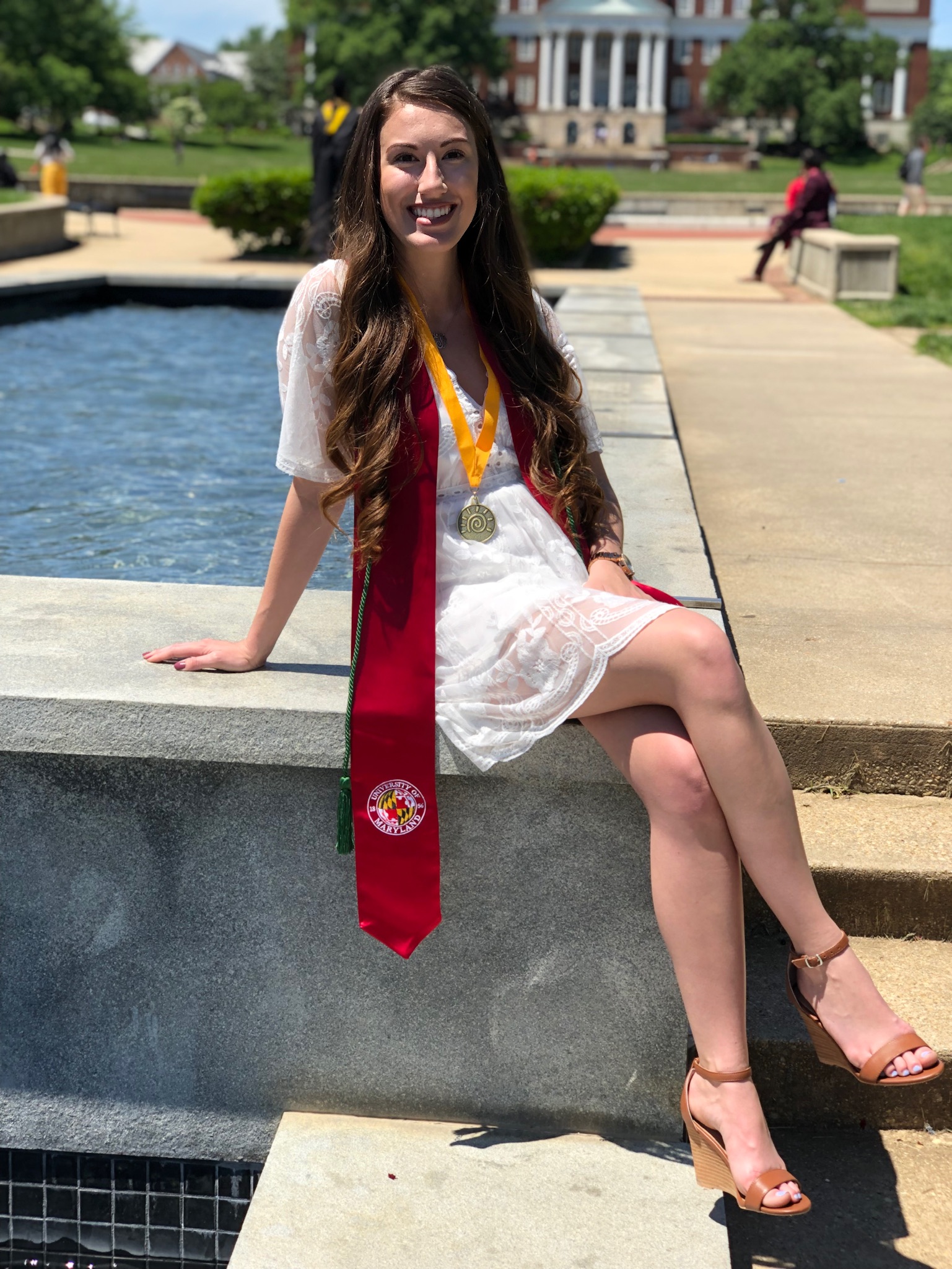 "I knew the whole time I was working on my bachelor's and even before I went to college that I wanted to get my master's," Tarman said. "And once I got the job, it was just a matter of how long I wanted to wait. After talking to some people I work with about their experiences, I felt like a year was a long enough time to have a break from school."
Tarman wanted to keep working while she took classes in her field and UMD's Science Academy gave her the opportunity to do both. The Science Academy offers master's programs designed specifically for working professionals in the specialized areas of data science and analytics, machine learning, or bioinformatics and computational biology.
Tarman enrolled in the data science and analytics program and earned her degree less than two years later in December 2021. It took a lot of juggling of full-time work, night classes, studying and working on projects, but Tarman is glad she did it.
"I learned a lot," she said. "When I started my position where I work now, I didn't have formal training as a data scientist. I just had the background that aligned with that job. So, to be able to go back to school, I feel more knowledgeable and more comfortable in my job. I haven't used everything that I've learned, but it's nice to know that I have that knowledge, and if I did need it, I would have an inkling of where to start."
Tarman began her master's just as COVID-19 hit and shut down in-person classes, but the online classes worked out well.
"It was all the same people throughout," she said. "I even met people that work where I work."
Many of the courses included working with those classmates on group projects.
"The projects weren't like quick one-week projects," Tarman said. "They were projects that were going to take longer and required a lot more group work. We were encouraged to work together and collaborate, which I think was very helpful because at work, I work on a team."
Two projects stand out for Tarman.
"We did a facial recognition project where we were able to classify people based on looking at the pixels in pictures," she said. "That's not something that I think I would have been able to do at my job without a lot of help from other people."
Another project focused on natural language processing.
"We looked at speeches from the Senate and by writing code for common words used by both parties, we could tell whether they were a Republican or a Democrat," Tarman said. "I feel like that's something that could be used in the future that I don't think I would have just come across in my everyday job."
To other professionals in her field, Tarman recommends the Science Academy program.
"This is a great program," she said. "You're going to be challenged, and it's going to be hard. But it's going to feel very rewarding at the end when you've completed the program and you've earned your master's."