UMD Researchers Studying Potential Benefits of Carbon Capture Technology
A research team led by Atmospheric & Oceanic Science's Timothy Canty is working to forecast the effects of carbon dioxide capture technology on air quality and human health.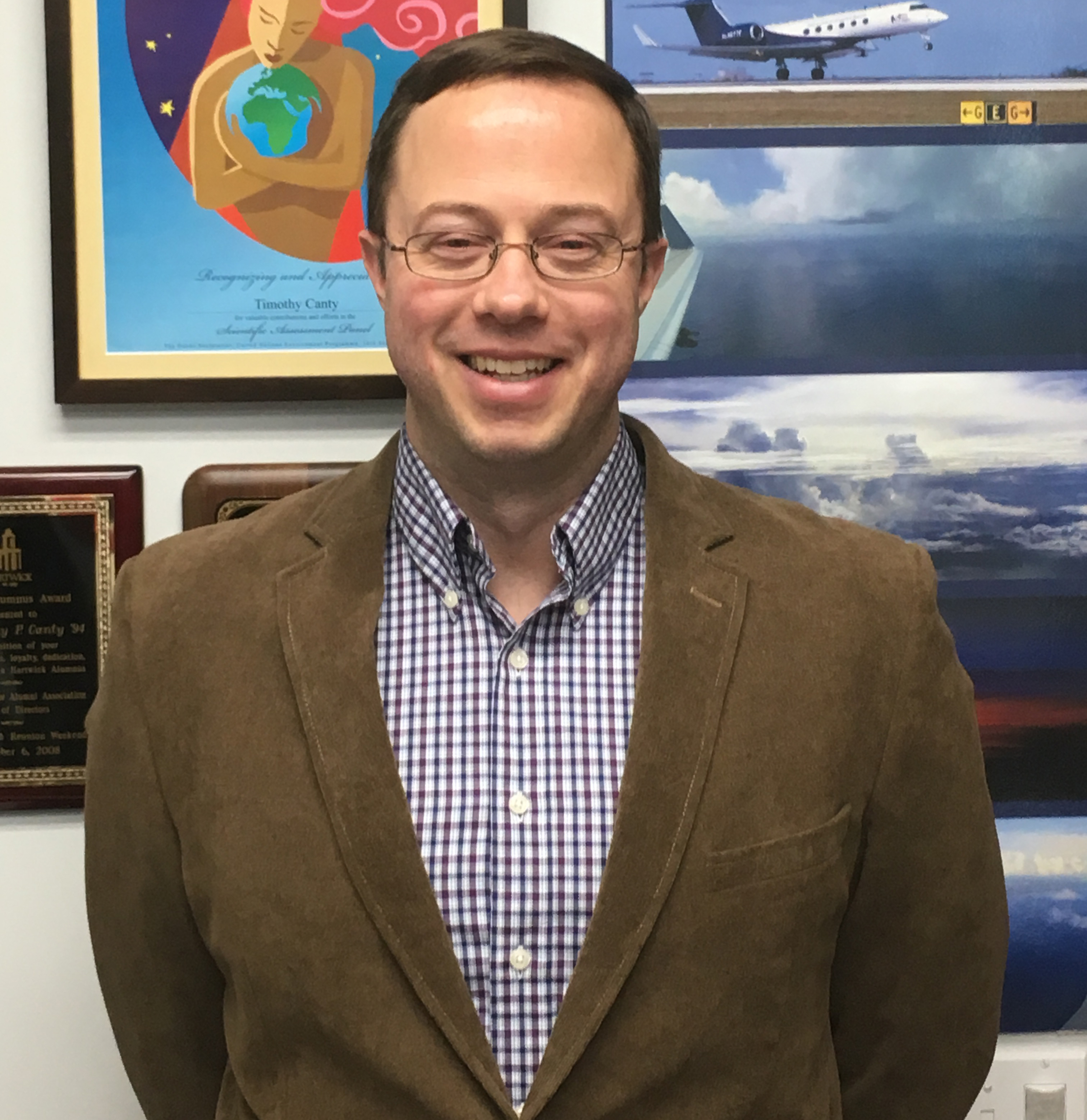 In 2015, nearly 200 countries signed the historic Paris Agreement, committing to keep global warming within 1.5 degrees Celsius of pre-industrial levels. Along with cutting greenhouse gas emissions and finding ways to redirect the sun's energy, a third way of achieving this goal is through carbon capture, an emerging technology that scrubs carbon dioxide—a potent planet-warming gas—from the atmosphere.
"If you want to tackle climate change, you have to either stop putting greenhouse gases in the air, remove greenhouse gases from the air or turn down the sun," explained Timothy Canty, an associate professor in the University of Maryland's Department of Atmospheric and Oceanic Science (AOSC). "So the idea is that if we're going to be burning fossil fuels and putting carbon in the atmosphere, then let's take the carbon back out."
Carbon capture equipment, whether it's pulling CO2 from the air or preventing it from being emitted in the first place, could help power plants fall into line with new regulations proposed by the Environmental Protection Agency to limit carbon dioxide emissions. In addition to combating climate change, carbon capture technology can simultaneously improve air quality by removing a host of pollutants that have been linked to higher levels of illness, disease and death.
To that end, Canty recently received funding from the U.S. Department of Energy (DOE) to identify the ways in which these carbon "scrubbers" could benefit the environment and human health.
"The DOE approached us because I'm an air quality scientist, and they wanted to understand how carbon capture—which can remove things other than just carbon—could lead to improvements in air quality," Canty said. "Climate is one issue and air quality is another. They're not necessarily perfectly related, but when you remove carbon dioxide you can also remove these other pollutants."
Led by Canty, the research team includes AOSC graduate student Akanksha Singh, Assistant Research Professor Hao He and postdoctoral researcher Allison Ring. The team will use a computational model to paint a "before and after" picture of what the country's air quality could look like if carbon capture systems are installed at power plants, cement production facilities and other industrial sites that emit higher levels of greenhouse gases.
Ultimately, Canty and his team hope that their model will someday be able to forecast air quality improvements at the city—and potentially even neighborhood—level.
"The goal is to find what these reductions in emissions look like and, through the model, see what the improvements to air quality will be at the highest spatial resolution possible," Canty said. "What if we put an air quality scrubber in downtown Baltimore or attached to an upwind power plant—what would that look like?'"
This regional and local focus could also identify areas of the U.S. that have the most to gain from carbon capture systems.
"Implicit in this project are environmental justice issues, because some of the most polluted regions are communities that are already overburdened and don't have the resources to combat these issues," Canty said. "That's something we're trying to nail down: How does this improve some of our most polluted areas?"
The project also aims to identify any economic costs or savings associated with carbon capture, and later stages of the project will loop in epidemiologists to identify the health outcomes linked to this technology as well.
"We plan to do epidemiological studies to say, 'OK, because the air is cleaner, here's how many heart attacks would be avoided or here's how many fewer infants will be admitted to the neonatal intensive care unit,'" Canty said of common health problems that have been linked to air pollution.
He is especially excited to be part of a project that could improve the health and well-being of millions.
"As a scientist, I really like working on projects that I think will help people," Canty said. "Since coming to Maryland, I've had the opportunity to focus on air quality policy and hopefully make the air a little bit cleaner for people to breathe. I'm really fortunate to have that opportunity, and to have the support of the DOE."